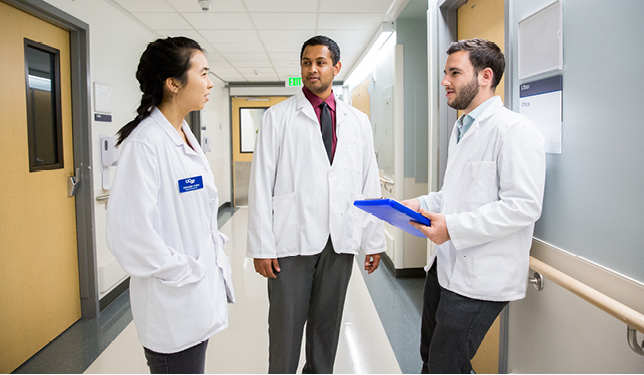 ---
Fellowship Programs
The Center for Intelligent Imaging at UCSF offers unique opportunities for ci2 Summer Fellowships. Since 2019, undergraduates from across the country have come to work on research with 1:1 mentorship from ci2 faculty and researchers on topics covering imaging and classification of disease (cancer, fractures, COVID, etc.), basic research in medicine and machine learning, including the development of new datasets, techniques, and algorithms that extend the state-of-the-art.
 
Inquire About Internship Form  Apply For Summer Internship Form
The fellowship program allows students to experience intensive hands-on research in medical imaging. Fellows will be paired with a ci2 research group where they can produce or contribute to publishable research over a fast-paced 10–12 week sprint. In the process, fellows will develop an understanding of how their potential career in academic research could take shape and will receive mentorship in pursuing the next steps of their academic and professional journeys. 
Program Features
Work 1:1 with a lab leader to develop research in an area of interest 
Contribute as first author or secondary author to publishable research 
Receive exposure to and mentorship for a potential career in academic research 
Solve essential problems at the intersection of medical imaging and machine learning! 
Important Dates for 2023
February 28
Applications for ci2 fellowship & internships close. 
March 1–15
Interviews for candidates applying to be ci2 fellows. 
March 28
Admissions decisions released to candidates. 
April 15
Deadline for admitted candidates to accept an offer.
April 24
Deadline for admitted candidates to submit work permits & CPT.
Eligibility
Eligibility Requirements
A continuing undergraduate student at a degree-granting institution (minimum 2.0 GPA) 
Exposure and interest in applied computer science skills (including Python, Git, Linux, and Matlab) 
Interested in pursuing a career in academic research or graduate school 
U.S. Citizen, U.S. Permanent Resident, or able to obtain an F1/J1 work visa * (see below)  
Minimum Student Expectations during Fellowship 
To devote total effort to the research project (Fellows cannot take courses or hold another full-time job.) 
To conduct research primarily in person unless indicated by the project/mentor. 
To participate in the project for a mandatory minimum of 10 weeks. 
To submit an abstract of their project approved by the mentor. 
To submit a written technical report approved by the mentor. 
To give a final oral presentation. 
 
The University of California, in accordance with applicable Federal and State law and University 
the policy does not discriminate based on race, color, national origin, religion, sex, gender 
identity, pregnancy, physical or mental disability, medical condition (cancer related or genetic 
characteristics), ancestry, marital status, age, sexual orientation, citizenship, or service in the 
uniformed services. 
* Requirements for International Students 
If a fellowship or internship offer is made, international students will be given instructions on how to apply for an F-1 or J-1 student visa abroad before participation. International students currently attending a college or university in the U.S. must secure special off-campus employment authorization before participation. F-1 students must apply for Curricular Practical Training (CPT); J-1 students must apply for Academic Training. Please consult an International Student Advisor at your current U.S. institution as soon as you apply to understand your school's requirements and deadlines for authorizing off-campus work authorization. Your home institution must approve CPT, OPT, or Academic Training before beginning the program.  
Practical Training for F-1 Students in the U.S.  
CPT can be granted through a student's current academic institution and does not require an application for Immigration. Each college or university in the U.S. has established specific guidelines and procedures for authorizing Curricular Practical Training. Students should consult their current international advisor as soon as the application process begins. 
OPT requires the student to submit an employment authorization application directly to Immigration. The application process requires a new I-20, endorsed by the student's current international advisor, for OPT. When the application is approved, Immigration will send the student an Employment Authorization Document (EAD). Students may NOT participate until the EAD is received. Because Immigration may take three months or more to process an OPT application, students are encouraged to consult their current international advisor as soon as they apply to the program. 
Academic Training for J-1 Students in the U.S. 
Academic Training can be granted through a student's current academic institution and does not require an application for Immigration. Each college or university in the U.S. has established specific guidelines and procedures for authorizing Academic Training. Students should consult their current international advisor as soon as they apply. If, after consulting with their current international advisor, you have additional questions about employment authorization, for more information please email Annie (Pei-Ting) Liu.   
 
Research Areas & Opportunities 
Projects Overview
Below is a list of projects posted by UCSF ci2 faculty, for which there is a need for a motivated student. Each project may have different application requirements, so please remember to complete all the required parts when you apply. We encourage students to research more about the project area or subject matter on their own before contacting faculty with their interests or questions.  
Remember: This is just one way that you can go about identifying a suitable project and/or mentor. See below for Research Focus areas, potential mentors, or Tips for Finding a Mentor/Project.  
2023 Research Focus Areas  
Neuroimaging
Cancer Imaging
Machine Learning
2023 Research Mentors  
Neuroimaging  
Ashish Raj, PhD - We have many projects, related to each of the topics noted above. Typically, these projects will integrate machine learning and AI with computational models and simulation data. Applications are in predicting brain states, disease states like Alzheimer's, and prediction brain functional activity from its wiring graph.    
Cancer Imaging  
Peder Larson, PhD  
Abhejit Rajagopal, PhD 
Machine Learning  
Ashish Raj, PhD 
Abhejit Rajagopal, PhD  
Srikantan Nagarajan, PhD - Machine learning with multimodal connectomes 
Others 
Galateia Kazakia, PhD - 1) Validating time-lapse HR-pQCT 'virtual bone biopsy' 2) Automated segmentation of musculoskeletal features from clinical CT 
Melanie Morrison, PhD - Multimodal MRI prediction of deep brain stimulation outcomes in Parkinson's disease  
Helpful Hints  
Start early! If possible, start looking in January and contact potential mentors early to confirm or clarify your understanding of the problem and potential research ideas.   
Pursue only research groups that you are truly interested in! Your passion for the problem will be made clear by your research statement and short answer questions. If you are unsure, use the application period to speak with each mentor you're interested in to help you pick a direction to pursue the summer.  
Use who you know! Using your network of friends, classmates, and professors is a great way to find a mentor.  
Be assertive and professional, but not entitled!  
Use what you know! We all start our research journey somewhere. Please apply if you are interested in any of the research topics found on this page or throughout ci2! Our ci2 can guide you, point you to relevant research papers or methods, and help your professional development.
Application Instructions 
All application documents must be submitted directly to the Online system by midnight in your local time zone on February 28, 2023. The online application contains the following:
Applicant details and educational background  
A short research statement (500-700 words) written by the student, addressing one of the listed projects or research areas.  
Short-answer questions (100 words each) about your interest in medical imaging or machine learning.  
Contact details for two references (required for some projects)  
A short coding challenge (required for some projects).
Online Application, deadline February 28th, A.O.E.
Applicant Details
Research Statement
Students must identify a research project or a research mentor before applying. A list of projects, mentors, and research emphasis for 2023 is listed on the Research Areas and Opportunities page. Applicants must write a short 500-700 word research statement about the research problem they intend to investigate and how they plan to go about it.     
Students need to start the process of identifying a research problem as early as possible. While it is not mandatory to pick one of the listed projects, applications with the clearest understanding of the problem and technical details will have the best chance of being selected. To facilitate this, students are encouraged to reach out to engage with project mentors via email, phone, or Zoom, to define better the problem focus, project goals, or the tools they will use or learn during the summer.  
The purpose of the research statement is to explain to a lay-person:  
what might you plan to do in your research  
why this work is necessary or desirable  
specifically, how you will do it  
to persuade, by your preparation, that you are the right person for the job.  
The people reading your research statement will include your potential mentor and the faculty evaluators who recommend funding priorities to the ci2 Educational Pillar.  
Your prospective mentor will have expert knowledge about your project and be best able to judge the merits of your objectives and plan of attack. The evaluators will be less well-informed about the background and motivation of your research, so you will have to provide information that will help them put the details in perspective.  
No two research statements are alike. While there is no general recipe or format required for your statement, most statements will share some structural features, such as:  
An Introduction/Background paragraph that explains from a high level a currently unmet medical need, the general area of research that can address this need, and the specific subproblem you aim to investigate.  
An Objectives paragraph that explains what you aim to accomplish in your project, specifically. What are your assumptions, dataset, or main hypotheses?  
Methods paragraph(s) that explain how you will research to achieve your objective. What will you do? What are the logical steps or milestones along the path? Which of these will you borrow from existing work, and which will you have developed yourself?  
A Conclusion/Value paragraph that explains why this approach is interesting or worthwhile for the medical community, and what specifically excites you about this.  
The short research statement should be between 500-700 words. References do not count towards the word limit and can be indicated in the text with numbered [1] or named brackets (e.g. [AuthorYear]). There will be a separate input box for entering your citation details in plain text. Please note that if you are accepted to the ci2 Fellowship, your work may not follow your research statement, depending on available opportunities.    
Coding challenge  
Starting in 2023, applications may submit their solution to an optional coding challenge (required for some projects). The details of the challenge can be found at https://github.com/m-hess/challenge_2023. Please pay extra attention to the submission format, which includes a PDF and source code in a specific submission format.    
Selection Criteria  
Applications will be judged on the following criteria:  
The research statement is a clear description of the proposed project. It demonstrates the applicant's understanding of the nature and purpose of the project, and how it relates to other work in the field, and it includes a work plan for accomplishing project goals. The proposed project allows students to take intellectual ownership, has the potential for publication in a refereed journal, and can be reasonably done in a 10–12-week period.  
Short answer questions demonstrate a passion for medicine, radiology, imaging science, and/or machine learning research.  
The student is prepared for the project (coursework, experience, coding challenge, etc).  
Returning students are expected to have stronger applications reflective of their prior experience.  
When you are ready to apply, please fill out the application here: https://www.jotform.com/form/222985070302148
Awards will be announced between March 28. Students will receive e-mail notification of the outcome of their applications and instructions and forms required to accept the award by April 15. 
FAQs
Purpose of ci2   
The Center for Intelligent Imaging (ci2) launched in 2020 and is an institutional resource focused on applications of artificial intelligence and image analysis tools in medical imaging. Our vision is to improve patient care and outcomes through the discovery, innovation, and translation of artificial intelligence tools in medical imaging.  
What projects can students work on?   
Students can work with various faculty members on projects regarding AI, machine learning, and image analysis applications in biomedical imaging. Additionally, students participating in the summer internship will have the opportunity to participate in various activities, which include networking and symposium events.
Who can apply?   
For the summer internship, high school, undergraduate, and graduate students, and professionals are welcome to apply. We will not be sponsoring visas for this program; therefore, you must be able to provide eligibility to work in the USA. Forms of work eligibility are US citizen/US Passport, F1, CPT or EAD visa, and a CDE work permit for minors.   
For the general internship programs, undergraduate, and graduate students, and professionals are welcome to apply. We will sponsor visas for this program, but applicants need to be able to provide adequate proof of income outside of the stipend received from the program.   
All our programs/internships require that you are currently enrolled and will continue in an educational program after the internship.   
I attended the program previously; can I apply again?   
Yes, we encourage all that are interested in applying – including those that have participated in the program previously.    
What is financial support available?   
All our internships are paid a fixed stipend amount. Failure to complete the entirety of the program and its activities can result in paychecks and stipends being revoked. We do not provide additional stipends for housing, visas, or other personal expenses for the internship duration.     
When does the program take place?   
The summer internship takes place from July-August for a duration of 8 weeks. Applications for the internship will generally be open during January and close in February/March. The link to apply can be found on our website.   
The general internship takes place over the course of 6 months. Students can apply anytime throughout the year. Please email Annie (

[email protected]

) to apply.   
Is the stipend taxable?   
Yes, the stipend will be taxed.  
Are health insurance or housing provided?   
We will not be providing housing or housing stipends, or health insurance for summer internship programs.   
Do you sponsor visas?   
We are only sponsoring visas for the general internship. We will not be sponsoring visas for the summer internship.  
What about COVID-19?  
We will be taking precautions accordingly to prevent the transmission of COVID-19 effectively. In-person attendance will be based on each faculty PI's needs; please discuss with your PI regarding this. Depending on the situation, we will notify interns if there is a need to stay at home.  
How do I apply?  
The summer internship application will be open in January, and the link to apply can be found on our website page.   
For a general internship, please email Annie (

[email protected]

) with your resume.   
Have additional questions?