Tweet
Share
Email
By John Mongan, MD, PhD and Kimberly Kallianos, MD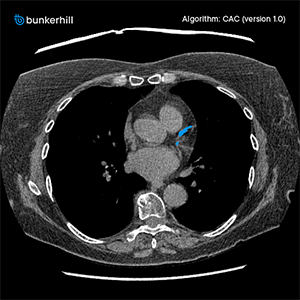 Coronary artery disease (CAD) is the most common manifestation of cardiovascular disease and the most common cause of mortality in the U.S. Coronary artery calcium scoring (CAC) is an important predictor of risk for CAD. If patients can be identified as high risk, they can reduce that risk through medical interventions and lifestyle changes. However, determining a CAC score requires a special, cardiac gated CT scan and is performed much less frequently than routine non-contrast chest CT.
An artificial intelligence (AI) algorithm using deep learning can enable clinicians to estimate the CAC score on routine non-contrast chest CT, potentially allowing opportunistic early preventive interventions. A multi-center team (including UCSF) took part in a study and developed a fully automatic, end-to-end deep learning model for automated CAC scoring using routine non-gated unenhanced chest CT exams. The model was trained using traditional CAC scores based on gated CT as ground truth; the trained model was evaluated on multiple external datasets. Investigators released labeled datasets of gated and non-gated scans with annotations to potentially help fuel further efforts in this domain by other investigators. The result was good news.
The first part of the good news is that the model achieved good diagnostic performance in identifying patients with any CAC and CAC scores 100 across all sites (PPV ranges from 87 to 100 percent).
The second part of the good news is that here at UCSF, we are live in production with automated AI coronary artery calcium scoring on our non-contrast chest CTs. This is an important milestone for the UCSF Center for Intelligent Imaging (ci2) in that this is our first full-scale production deployment of an AI algorithm contributed to by UCSF investigators. With this news, UCSF becomes the first medical center to put this algorithm into production.
The project was led by Bhavik Patel, MD, then at Stanford University and currently Director of AI and an associate professor of radiology at the Mayo Clinic in Arizona, in conjunction with John Mongan, MD, PhD and Kimberly Kallianos, MD, UCSF ci2 investigators who validated the performance of the algorithm on UCSF data. The algorithm is deployed in conjunction with Bunkerhill Health; AI inference is performed on the Bunkerhill cloud platform. More detailed information about the algorithm is available in a recently published paper in NPJ Digital Medicine (open access).